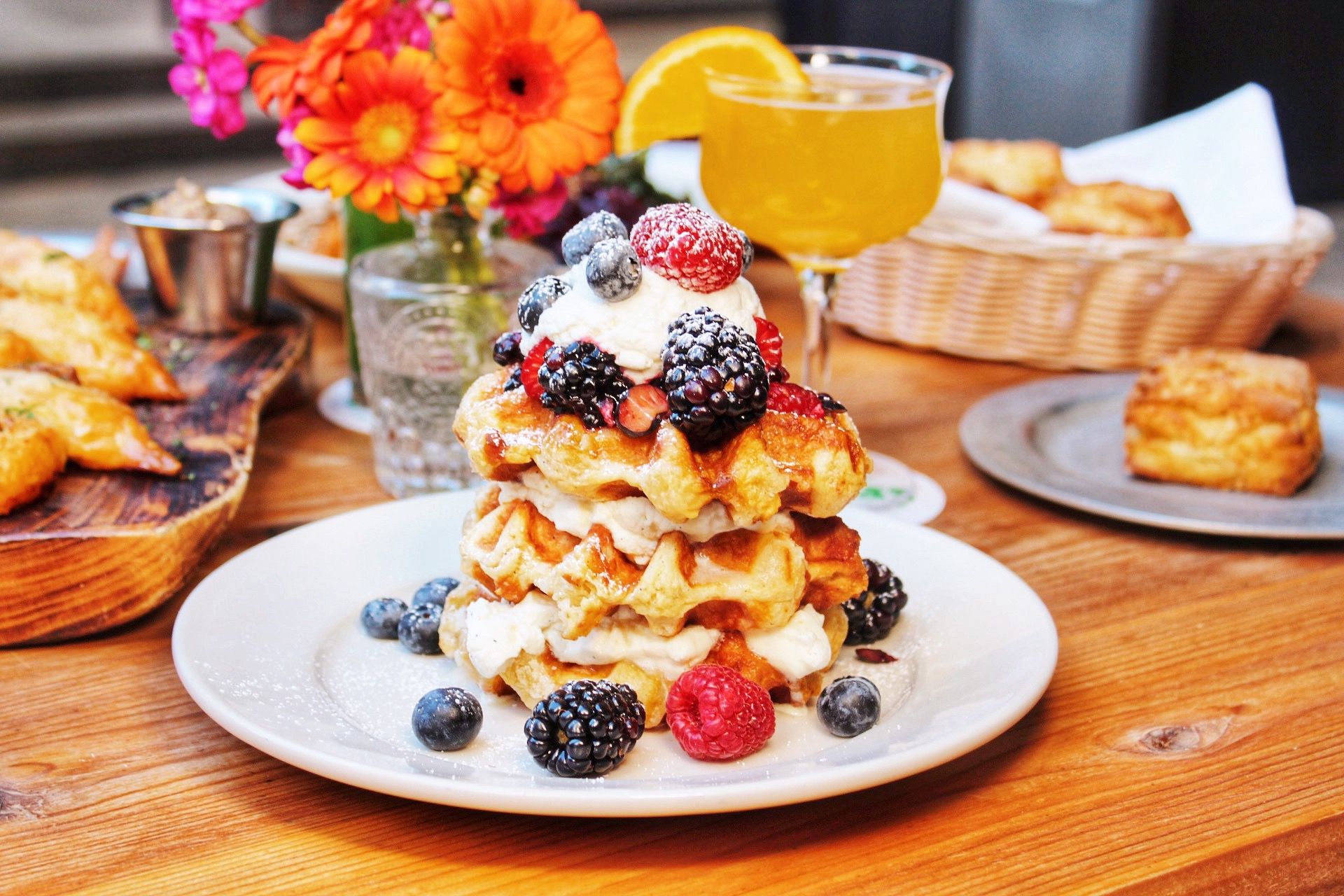 BRUNCH
Friday-Sunday, 11am-3pm
Menu is subject to change based on seasonality and availability.
RAW BAR
Oysters
a selection of 6 North American, two types of mignonette
24
TABLE SHARES
Little Ola's Biscuit
house biscuit, honey butter
4
Maie's El Rancho - Roberta Armstrong Dip
award-winning queso, sausage, onion, tomato, parsley, avocado, biscuit chips
16
Chicken Wings
buttermilk ranch, celery, carrot, blue cheese crumbles
22
Kennebec Fries
ketchup & Maie Day sauce
6/12
Cinnamon Roll
pecan, citrus glaze
10
*Saturday & Sunday only*
MAINS
Avocado Toast
whipped avocado, garlic oil, field pea 2 ways, pickled mustard seed, arugula
18
add soft boiled egg + 4
Plain Salad
tender greens, citrus vinaigrette, pecans
8/16
Afternoon Delight Grain Bowl
red quinoa, farro, avocado, basil almond pesto, greens, fried kale, toasted sunflower, soft boiled egg
20
The Chicken 'n The Egg
au jus, fried egg, roasted chicken, pecorino, hash brown
16
Gimme Burger
double wagyu smash burger, american cheese, shredduce, gimme sauce, tomato, onion
18
add fried egg +4
Party Parfait
greek yogurt, housemade granola, surprise fruit, jam
12
Maie'd Up Brunch Plate
two eggs, hash brown, bacon, toast
20
Sugar Waffles!!
two Liege waffles, cranberry syrup, coffee whipped cream, surprise fruit
18
Little Ola's Biscuits 'n Gravy
cream gravy, black pepper, chive
16
add fried egg +4
Prime Rib Slider
potato roll, creamed horseradish, fried onion, au jus, arugula salad
18
Country Fried Steak 'n Eggs
44 Farms, chimichurri, two eggs over easy
35
LOCAL BEER 'N CIDER
Blue Owl Brewing Seasonal
Thirsty Planet Brewing Co. Thirsty Goat
Hi Sign Brewing El Berto
Mexican style lager, ATX
5
Texas Cool Agua Fresca
watermelon, lime, cucumber seltzer, ATX
6
Fairweather Cider Smell the Van
botanical dry cider, ATX
6
Nomadic Beerworks Peak Season
COCKTAILS
Mary Maie*
bartender made bloody mix, lemon, vodka
15
Virtue On Verday*
Virtue green juice mix, lime, gin or tequila
15
Maie-chelada
bartender made bloody mix, Hi Sign El Berto
12
Go-Go-chelada
Virtue green juice mix, Real Ale Vámonos Gose
12
Phunk Me Up
'funky' rum, 'reggae' rum, passionfruit liqueur, velvet falernum, pineapple gum, angostura, lime
15
To-Maie-To, Tomato*
bison grass vodka, rosemary, thyme, tomato water, lime
15
I'm. Still. Big. Red!
gin, pomegranate, black currant, rosemary, thyme, lemon, sparkling wine, little 'bring it on' action
15
Peach Pit
bourbon, amaro di angostura, naranja, demerara, peach bitters
15
Aperol Spritz
aperol, sparkling wine, lemon, orange
15
Season of some Sangria
lots of wines, lots of flavor, lots of fun!!
15
Mimosuh!!
sparkling wine, choice of house juices
10
Face Your Fears
tequila, mezcal, aperol, chareau, lemon, grapefruit
15
Do Some Thym
gin, yellow chartreuse, st. germain, thym liqueur, strawberry, lemon
15
Suzy GreenBerg?
mezcal, suze, green chartreuse, cilantro-serrano syrup, lime
15
Spritz On The Fritz - Frozen
coconut water rum, bacardi rum, st. germain, blood orange, honey, sparkling rosé, lime
16
Down in Tequila Town - Frozen
cazadores tequila, laird's applejack, orange liqueur, watermelon, tepache, lemon
16
* substitute with Slow Luck upon request.
** Our food is prepared to order. Please be aware that consuming raw or undercooked meats, poultry, seafood, shellfish or eggs increases your risk of food borne illness.
** A 4% employee support surcharge is added to dine-in bills to assist with the funding of our employee programs. 100% of these funds go towards employee benefits, wages, and programs. This surcharge can be removed by your server upon request.