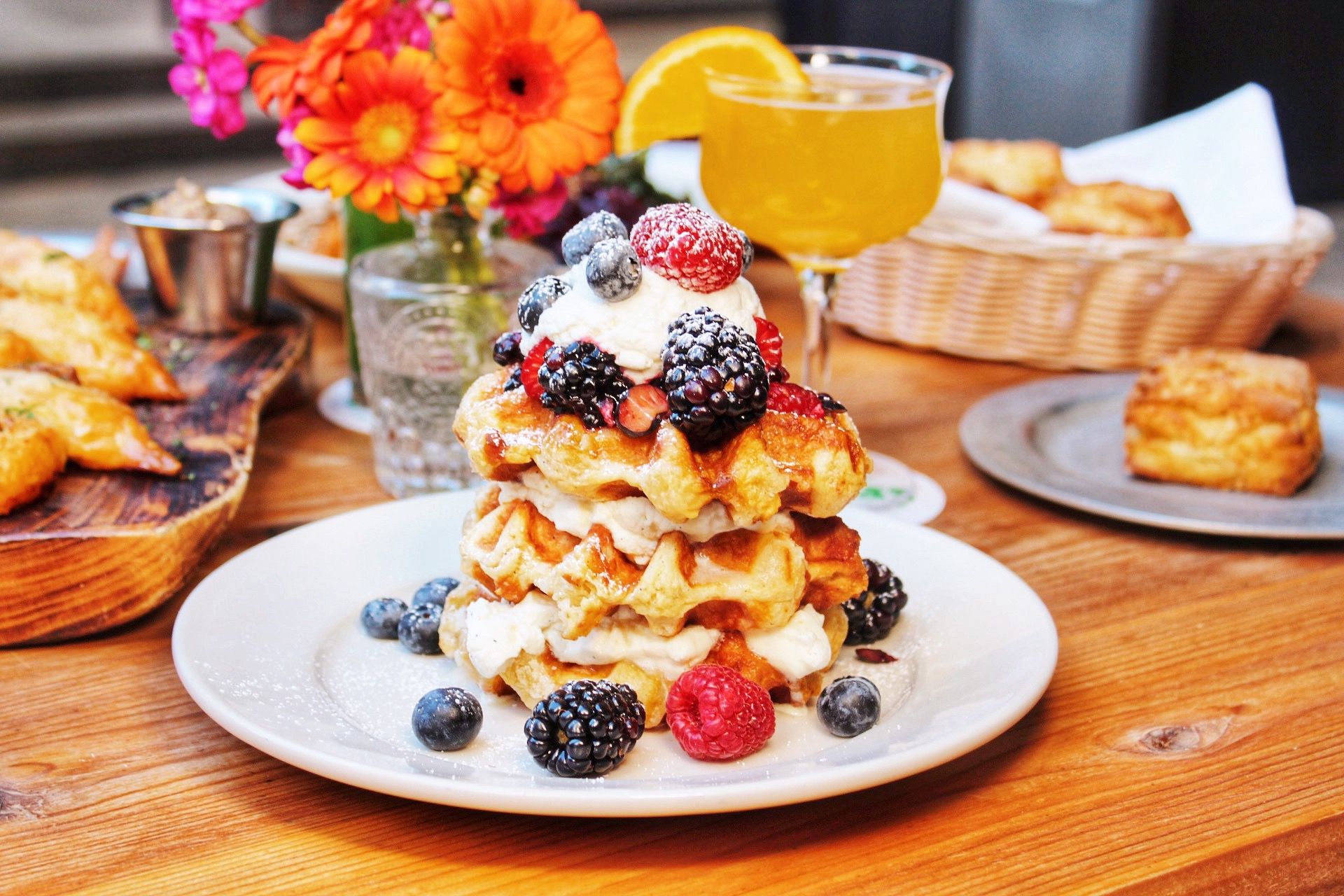 Menu is subject to change based on seasonality and availability.
RAW BAR
Oysters
a selection of 6 North American oysters, two types of mignonette
24
FOR THE TABLE
Little Ola's Biscuit
house biscuit, honey butter
4
Maie's El Rancho - Roberta Armstrong Dip
award winning queso, sausage, onion, tomato, parsley, avocado, biscuit chips
16
Chicken Wings
buttermilk ranch, celery, carrot, blue cheese crumbles
22
Sticky Bun
cinnamon, pecan, citrus glaze
10
Pigs 'n a Biscuit
house sausage, side of whole grain mustard & gravy
14
Kennebec Fries
ketchup & Maie Day sauce
8/12
MAINS
Maie'd Up Brunch Plate
two eggs, hash brown, bacon, choice of toast or biscuit
20
Sugar Waffles
two Liege waffles, cranberry syrup, coffee whipped cream, mixed fruit
18
Party Parfait
greek yogurt, house granola, mixed fruit, jam
12
Afternoon Delight Grain Bowl
red quinoa, farro, avocado, basil almond pesto, greens, soft boiled egg, fried kale, toasted sunflower
20
Plain Salad
tender greens, citrus vinaigrette, pecans
8/16
Avocado Toast
whipped avocado, garlic oil, field pea 2 ways, pickled mustard seed, arugula
18
add soft boiled egg + 4
Little Ola's Biscuit & Gravy
sausage, cream gravy, cracked black pepper, chives*
16
*without sausage (veg)
The Chicken or The Egg
brown gravy, fried egg, roasted chicken, pecorino, hash brown
16
Prime Rib Slider
potato roll, creamed horseradish, fried onion, egg foam, arugula salad
16
Gimme Burger
double wagyu smash burger, American cheese, shredduce, Gimme sauce, tomato, onion
18
Country Fried Steak 'n Eggs
44 Farms chicken fried steak, chimichurri, two eggs over easy
35
Add Ons
Waffle with Sorghum Butter
** Our food is prepared to order. Please be aware that consuming raw or undercooked meats, poultry, seafood, shellfish or eggs increases your risk of food borne illness.
**A 4% employee support surcharge is added to dine-in bills to assist with the funding of our employee programs. 100% of these funds go towards employee benefits, wages, and programs. This surcharge can be removed by your server upon request.