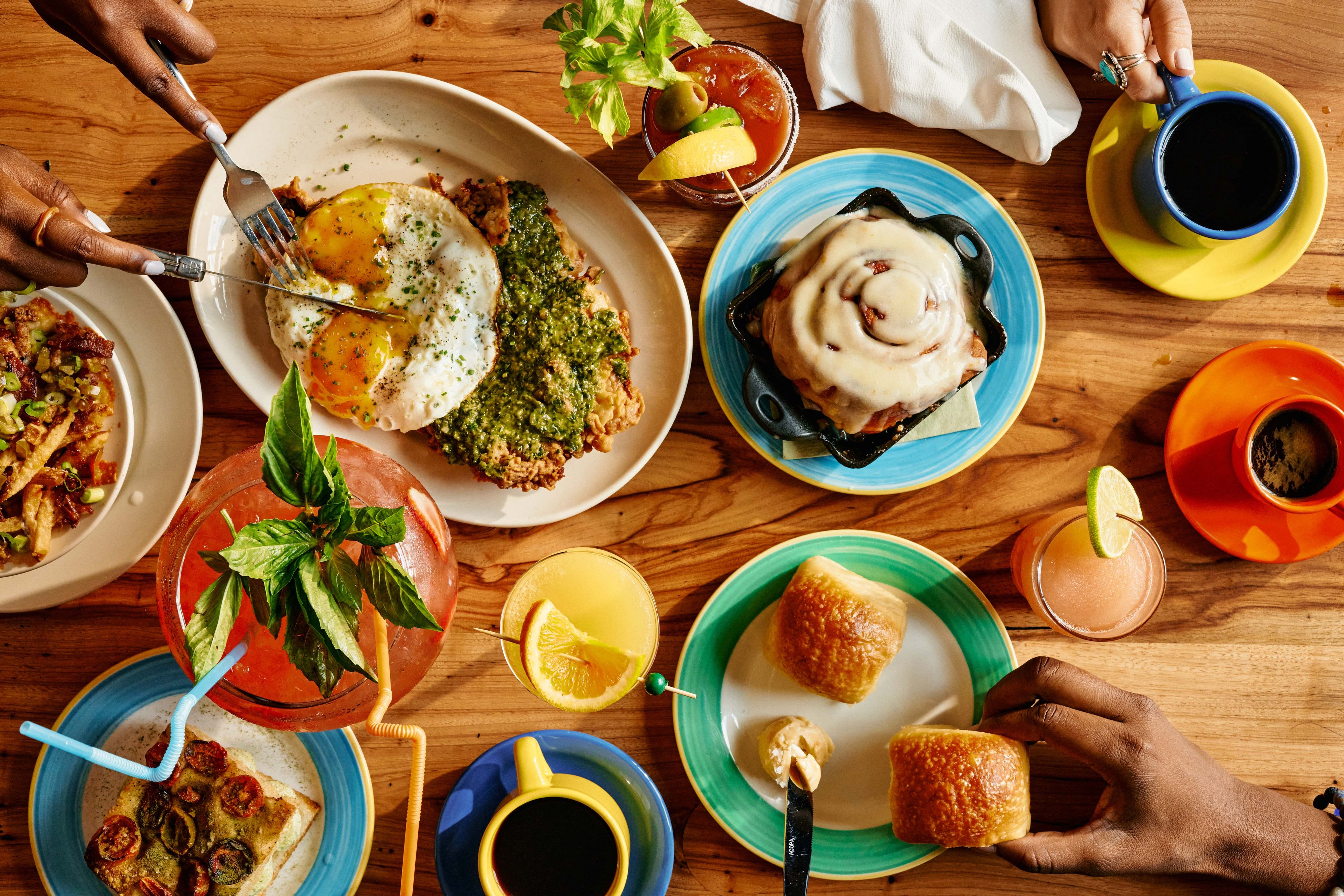 BRUNCH
Friday-Sunday, 11am-3pm
Menu is subject to change based on seasonality and availability.
RAW BAR
Oysters
a selection of 6 North American, two types of mignonette
24
TABLE SHARES
Maie's El Rancho - Roberta Armstrong Dip
award-winning queso, sausage, onion, tomato, parsley, avocado, biscuit chips
16.50
Dusted Chicken Wings
peppercorn, celery, carrot, blue cheese, ranch
24
House Fries
Kennebec Potato, ketchup & Maie Day sauce
6/12
Focaccia 'n Tomatoes
cherry tomato, basil, garlic, cream cheese spread
12.50
MAINS
Avocado Toast
whipped avocado, garlic oil, field pea, pickled mustard seed, arugula
18.50
add soft boiled egg + 4
Plain Salad
tender greens, citrus vinaigrette, pecans
8.50/16
Caesar Salad
a classic, with a twist, Little Ola's breadcrumbs
12/22
Grainful Dead Bowl
red quinoa, farro, avocado, basil almond pesto, greens, fried kale, toasted sunflower, soft boiled egg
20
Maie'd Up Brunch Plate
two eggs your way, hash brown, bacon, toast
20
Gimme Burger
double wagyu smash burger, american cheese, shredduce, gimme sauce, tomato, onion
18
add fried egg +4
Party Parfait
greek yogurt, housemade granola, surprise fruit, jam
12.50
Buttermilk Waffle
fresh berries, chantilly cream, maple syrup, "fruity pebbles"
15
Little Ola's Biscuits 'n Gravy
cream gravy, black pepper, chive
16.50
add fried egg +4
Prime Rib Slider
potato roll, creamed horseradish, fried onion, au jus, arugula salad
18.50
Country Fried Steak 'n Eggs
44 Farms, chimichurri, two eggs your way
35
Shrimp 'n Grits
Gulf shrimp, butter, garlic
25
PRIME RIB FRIDAYS
It's rarely done!
Enjoy a thick slice of our famous wagyu prime rib with au jus and horseradish cream for $19, sliced live + to order tableside by Chef Michael Fojtasek from Maie Day's premier prime rib cart.
Available every Friday, starting at 11AM 'til sold out!
LOCAL BEER 'N CIDER
Blue Owl Brewing Seasonal
Thirsty Planet Brewing Co. Thirsty Goat
Hi Sign Brewing El Berto
Mexican style lager, ATX
6
Texas Cool Agua Fresca
watermelon, lime, cucumber seltzer, ATX
6
Fairweather Cider Smell the Van
botanical dry cider, ATX
6
Altstadt Brewery Hefeweizen
Nomadic Beerworks Peak Season
COCKTAILS
Maie Bloody Day
bartender made bloody mix, lemon, vodka, 15
Maie-chelada
bartender made bloody mix, Hi Sign El Berto
10
Aperol Spritz
aperol, sparkling wine, lemon, orange
15
Mimosa
sparkling wine, your choice of juice
10
BORAHAE BOOZE
vodka, grapefruit liqueur, baijiu, lavender, lemon
16
SCARLET BEGONIA
bacardi spiced rum, solerno, montenegro, orgeat, lime, ruby port
16
PEACH PIT
bendt no. 5 whiskey, amaro di angostura, naranja, demerara, peach bitters
16
RUM A TIGHT SHIP - FROZEN
coconut water rum, bacardi rum, aperol, pineapple, lemon
16
NO MAMES MAIE - FROZEN
tequila, ancho reyes verde, orange liqueur, raspberry gum syrup, lime
16
HOLD THE LINE
las californias gins, luxardo, aquavit, mango, lime
16
MAIZED & CONFUSED
tequila, nixta, orange liqueur, spiced apple cider, lemon
16
SUZY GREENBERG
mezcal, suze, green chartreuse, cilantro-serrano syrup, lime
16
SUNDAY AFTERNOON
vodka, peach liqueur, tea, demerara, lemon
16
Do Some Thyme
gin, yellow chartreuse, st. germain, thyme liqueur, strawberry, lemon
16
* substitute with Slow Luck upon request.
** Our food is prepared to order. Please be aware that consuming raw or undercooked meats, poultry, seafood, shellfish or eggs increases your risk of food borne illness.
** 4% of all food and beverage revenue aids in the funding of employee benefits, fair wages, and programs.