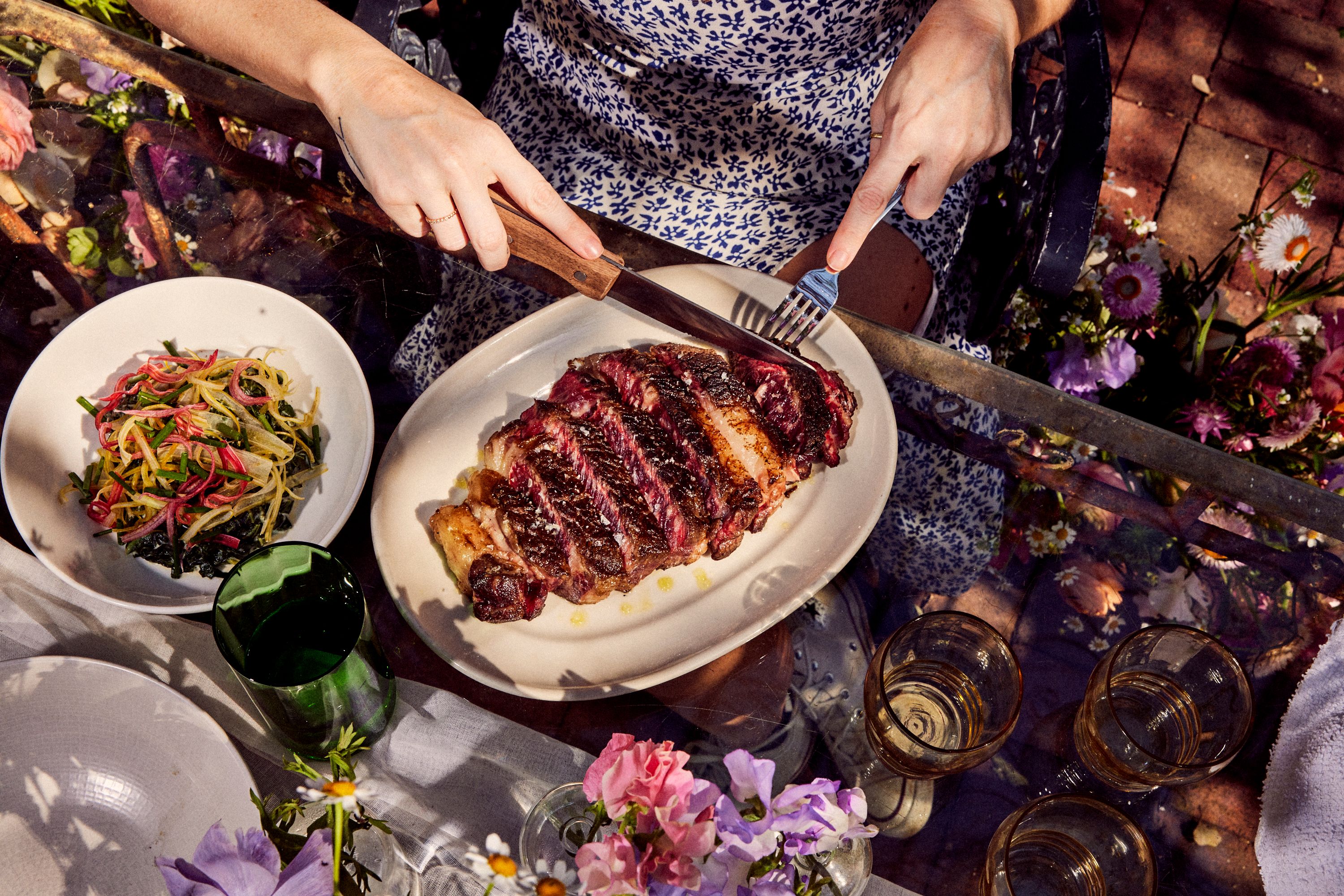 DINNER
Monday-Saturday, 5-10pm
Sunday, 5-9pm
Menu is subject to change based on seasonality and availability.
Raw Bar
Oysters
a selection of North American oysters with Tabasco mignonette, mignonette, lemon
24
Grilled Oysters
bourbon-barbecue butter
5/ea
Tartare
mustard, egg yolk, horseradish, housemade grilled sourdough
24
KAMPACHI
green tomato + basil base, apricot jam, garlic chips, watermelon radish, parsley, lemon zest

20
Crab Dip
citrus, mayo, Tabasco, chive, summer squash hush puppies
25
SMOKED FISH DIP
onion, mayo, house "Ritz" crackers
16
BREADS
POTATO ROLLS
set of two, sorghum butter
8.50
JALAPEÑO CHEDDAR CORN CORNBREAD
set of two, sorghum butter
10
Appetizers
CRAB CLAWS
garlic, parsley, brown butter, housemade grilled french bread
30
CHICKEN WINGS
buttermilk ranch, celery, carrot, blue cheese crumbles
24
KENNEBEC FRIES
ketchup & Maie Day sauce
6/12
LOADED FRIES
cheddar, bacon, chive, sour cream, pickled jalapeño
10/18
HAM PLATE
a selection of three American country hams, cornbread muffins, sorghum butter
18
SHAVED PRIME RIB
creamed horseradish, Yorkshire pudding
18
Salad
Caesar Salad
the classic, without anchovy
12/22
Cobb Salad
chicken, ham, bacon, tomato, avocado, hard-boiled egg, green goddess dressing
22
Spinning Salad
gold + red beets, tomato, hard boiled egg, croutons, 'vintage' dressing
14/22
Plain Salad
tender greens, pecan, citrus vinaigrette
8.50/16
Chophouse
Butterflied 'n Grilled Fish
grilled kale gremolata
MKTP
Big Pork Chop
pepper glazed, whiskey brined
65
Prime Rib
au jus, horseradish cream, burnt onion powder
70/16oz
Sides
Mac n' Cheese
Tillamook cheddar, fusilli
16
Baked Potato
bacon, sour cream, scallion, cheddar, monterey jack
14.50
Market Mushrooms
red wine jus, shallot, parsley, housemade french bread
15.50
Grilled Green Beans
benne seed tahini, lemon
12.50
Tomatoes
olive oil, salt, black pepper
10.50
MASHED POTATOES
Mill-King heavy cream, Plugra butter, chive
10.50
Dessert
Eton Mess
fresh + macerated strawberries & blueberries, vanilla chantilly, dehydrated meringue nest, fried mint
12.50
Banana's Foster Panna Cotta
white chocolate panna cotta, vanilla chantilly cream, chocolate sauce, cocoa nibs, microplaned peanuts
14
Brûléed Cheesecake
almond cinnamon granola, cranberry cardamom compote, whipped citrus mascarpone, orange meringue

19
'World Famous' Texas Chocolate Cake
caramel, benne seed, lemonade sauce, coffee chantilly

19
** Our food is prepared to order. Please be aware that consuming raw or undercooked meats, poultry, seafood, shellfish or eggs increases your risk of food borne illness.
20% gratuity may be added to parties of 6 or more.
4% of all food and beverage revenue aids in the funding of employee benefits, fair wages, and programs.